I think we all know A Christmas Carol, a classic, to read and reread during the Christmas period to revive the spirit of Christmas. You will remember that Scrooge, the arid, rich and stingy protagonist (from which the Disney's character Uncle Scrooge took inspiration) meets the ghosts of Christmas present, Christmas past and of Christmas Yet to Come. The doll I made depicts Ebenezer Scrooge in the moment of meeting the ghost of Christmas yet to come that shows him what Christmas will be like to come, in fact it is as if for a moment he sees death in the face and he himself becomes death itself.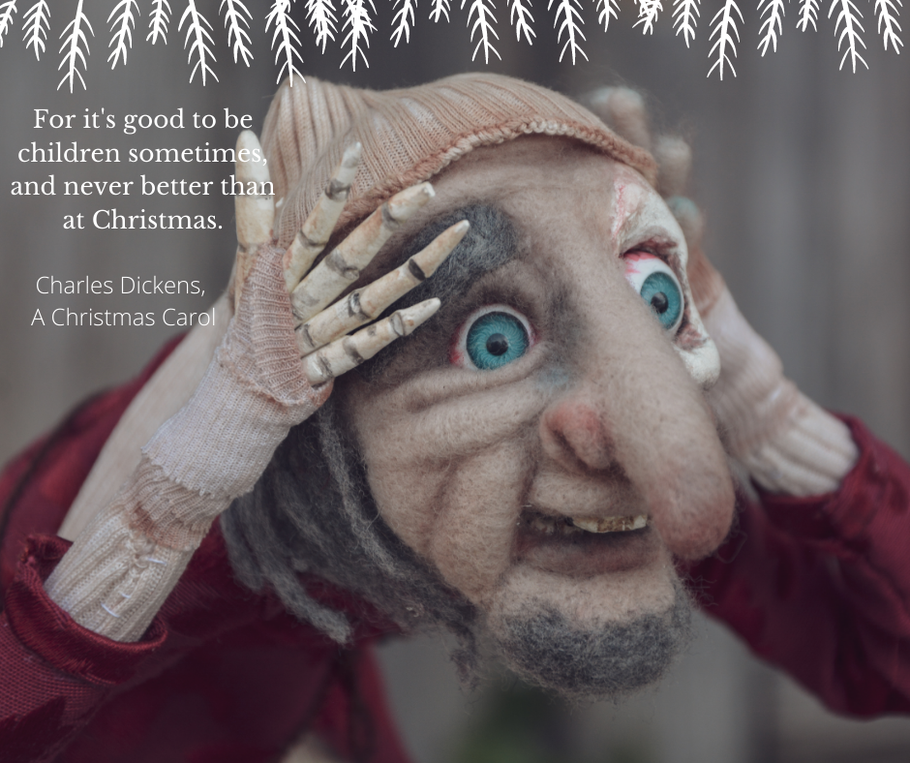 Before the diffusion of A Christmas Carol the Christmas greeting was "Happy Christmas" in the story instead the phrase "Merry Christmas" is used which has since taken hold and established itself becoming the most widespread wish. A Christmas Carol popularized various idioms.
 Only 6 weeks after its release "A Christmas Carol" became a theater play.


The term Scrooge entered the language and the Oxford English dictionary as a synonym for stingy person.


As his previous book did not sell well Dickens paid for the publication of A Christmas Carol, The first edition which cost five shillings went on sale on December 19, 1843 and was sold out by Christmas. It has remained one of the most purchased books ever since.


Dickens read and interpreted his stories, the first public reading of A Christmas Carol was in 1852 and was repeated 126 times before Dickens's death in 1870.
 A Christmas Carol inspired many people, especially people who became rich Thanks to the Industrial Revolution, to donate for Christmas to the less fortunate and thus encouraged charity.


Dickens was inspired to write A Christmas Carol after he spoke at a charity event to raise money for Manchester University in England, an institution dedicated to the dissemination and advancement of knowledge.
 If you liked it HERE you will find another post dedicated to Dickens' passion for the theater and specifically to Christmas Carol in the theatrical version.
 HERE instead you can find my Ebenezer Scrooge