We are all familiar with Charles Dickens's Christmas Carol but perhaps not all of us know that Carles Dickens made a theatrical adaptation of it by condensing the story into an hour and a half of story. But let's start from the beginning. 
Dickens was first and foremost a theater man, he was obsessed with acting, to tell the truth he would have turned out to be an actor. Despite his literary success, Dickens decided not to give up with acting and began to create tailor-made shows for himself where he read passages of his own works so as to found a real second career on his theatrical readings that he carried around throughout the England and Ireland and even the United States.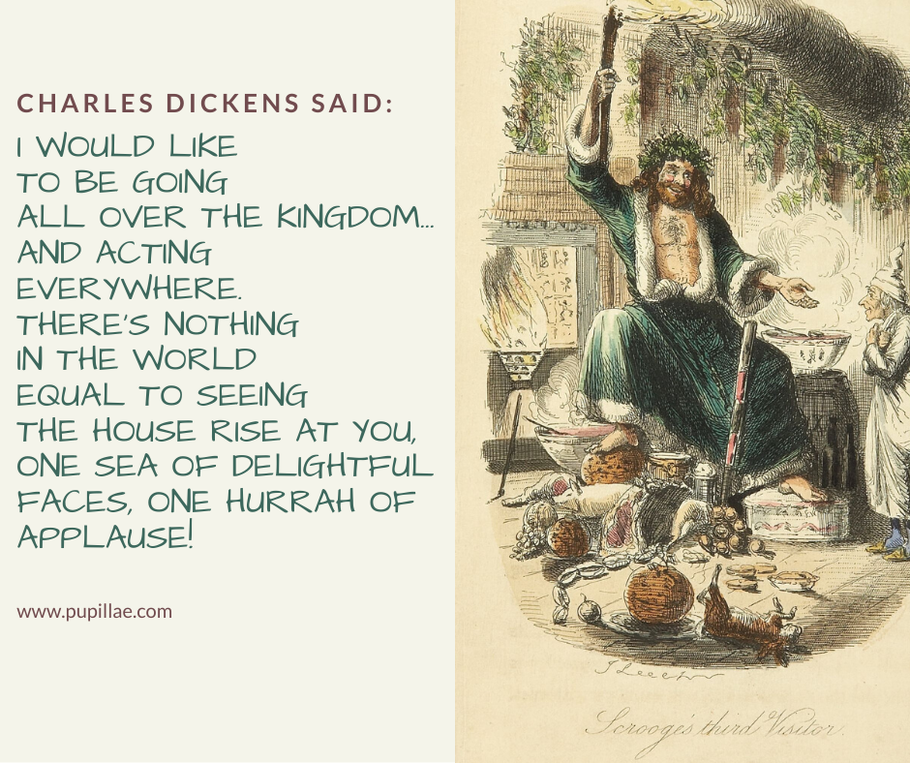 Charles Dickens had an expressive and plastic face since he was a child and on stage he was able to make his audience laugh out loud and then bring them to tears. He created personalized voices for his characters and filled his writings with theatrical indications such as "finger snaps", "shudder" and so on.
He worked on 16 comic and tragic excerpts from his writings, meticulously preparing the scene with a wine-colored lectern. Dickens is the sum of everything I like, literature, theater and character study, I can understand why it is an icon and one of the most popular writers of all time. I made the Oliver Twist doll that is now in Australia, here it is. I hope to be able to work on other Dickens masterpieces soon because I love his characters.
Dickens's works have had a great influence on later literature and continue to inspire writers and artists. A Christmas Carol plays a central role in John Irving's novel 'A prayer for Owen Meany' where the main character, Owen Meany interprets the spirit of the future Christmas in a theatrical performance and has a revelation that I don't tell you because I suggest you read the book because it is fun, original and moving like many novels by the American novelist.
I greet you with this sentence by Dickens which I like very much and which makes me believe that determination and seriousness pay. If you want you can pin it in your Pinterest page. See you soon!