Today we meet an incredible artist, Mariella Carbone, she defines herself as a puppet maker (pupazzara in italian) and is very attached to the world of theater which we love, but let's listen to the story from her words.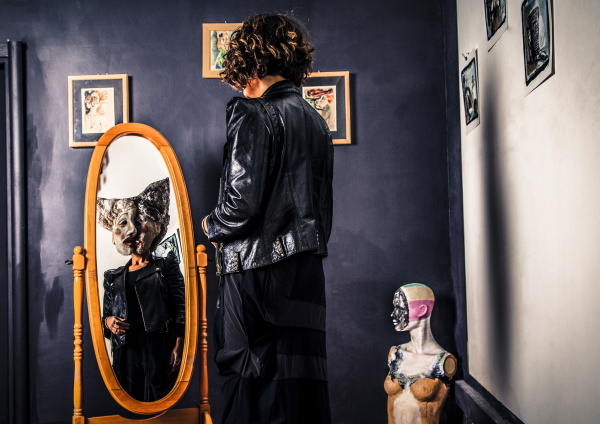 * I know that you have Neapolitan origins, can you tell me how you started and what led you to live in Umbria?
I was actually born in a small town in the Salerno hinterland, in Colliano, between hills, spas and the sea of Paestum on the horizon. The quiet childhood, in a southern country without particular stimulating cultural situations, but rich in humanity and folk stories steeped in mysteries and folklore, colors, flavors and nature, has amplified my imagination, but also the desire to escape and to know more!
Two events, both related to the earthquake, led me to change cities.
The first time, I left my country of origin, with the 1980 Irpinia earthquake. For a few years I was in a town close to Salerno, Battipaglia, where I met my first teacher, Pasquale Mellone, costume designer and "doll maker". Then I landed in Naples to enroll in the faculty of architecture.
The Neapolitan years (13 years) were fundamental for my artistic training. The meeting with some people, in particular the guarrattellaro Salvatore Gatto (guarrattelle are the oldest and most famous form of puppet theater in the Neapolitan tradition); Don Luigi Grassi, "doctor" of the doll hospital; actor Maurizio Merolla, they stimulated and enticed me, believing and trusting the work that I had been carrying out for years, building dolls and small puppets.
In those years I divided myself between the study and the creative and artistic dimension, with participation in street theater festivals and the creation of shows and theatrical sets by making shows and exhibitions in various places.
 After graduating, while working in this area, following the 1997 Umbrian earthquake, I moved to Perugia for a work experience as an architect that had to close in 6 months ... and yet after 23 years I am still Umbria!
And therefore I continue to divide myself between the world of architecture and that of theater and creativity, in a
stable / unstable balance, tiring but also full of gratifications.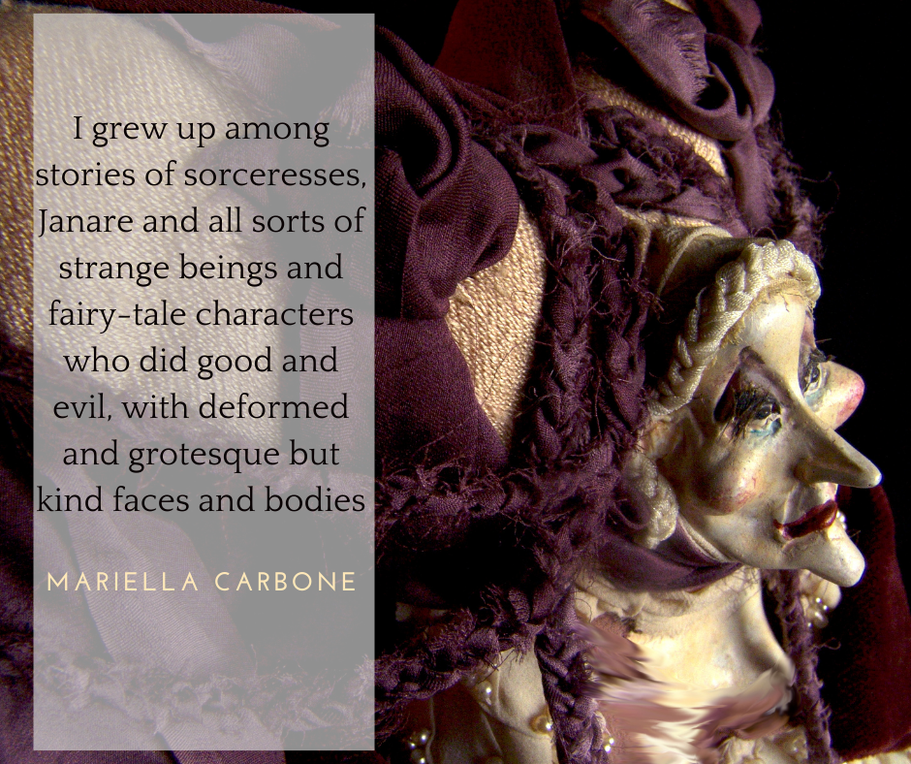 * In your style I read many suggestions: the commedia dell'arte is certainly one of these, I love the dreamlike almost "worn out" aspect of your characters.
As I said before, I grew up among stories of witches, Janare (women / witches linked to the stories and traditions of the rural and peasant world of the south, especially of Campania) and all sorts of strange beings and fairy-tale characters who did good and evil, with deformed and grotesque but kind faces and bodies… with actions and stories of imprisonment
and/or liberation, of loves or of hatred and violence.
My imagination, with my graphic and sculptural sign (thanks also to the continuous vision of Neapolitan Baroque art, of the thousand churches and palaces with paintings and sculptures, so close at hand) was built on that imagination and on the distortions of those faces and those bodies.
The world of Pulcinella and the fables of Giambattista Basile, between the dreamlike and the grotesque, between the erotic and the poetic, was certainly important to fill my creative world which was populated by fairies, witches and fantastic animals, women a little wise and a little bewitching, seductive and prostitutes but also a little "madonnas".
In the Neapolitan years, in addition to tradition (the cribs and pulcinella) I was captured by the world of cinema of the past
(Fellini, Visconti etc ...) as well as the contemporary one and I have been in contact with various theatrical worlds. In short, a cauldron of different and opposite solicitations, made up of many things.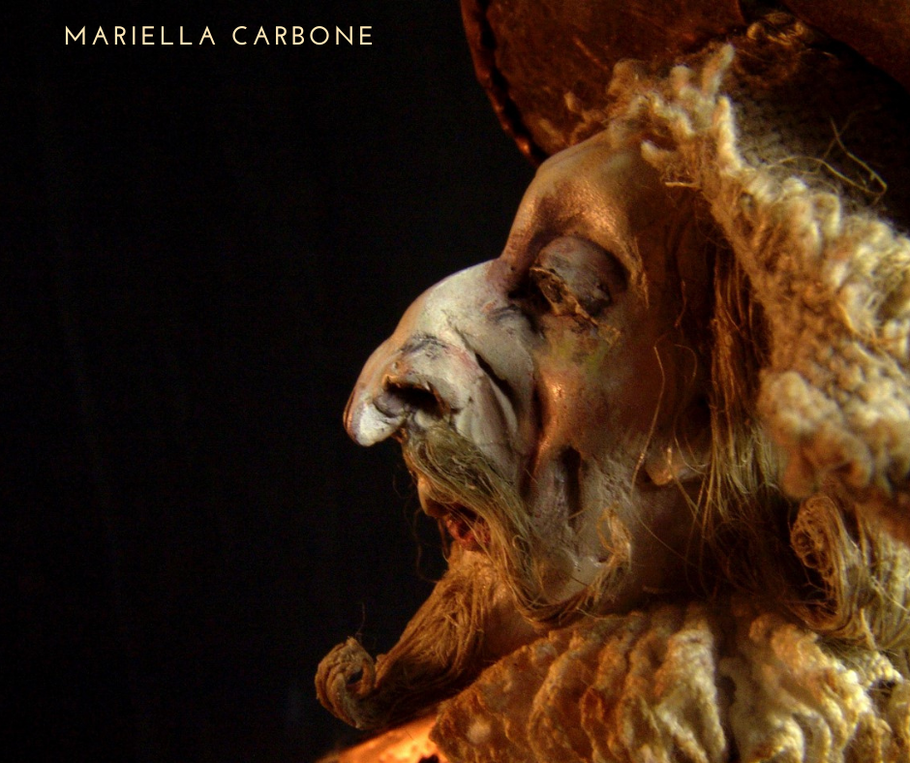 * The theater, how does it enter and what role does it play in your life and in your art?
 My first theatrical experience was at 10, with the world of Sicilian puppets, by Mimmo Cuticchio. It was a shock: the noise of the irons of the armor, of the powerful voices of these figures enchanted me. I was on vacation with my family, my parents, given my "ecstasy" after the show, bought me the next day a box of modeling tools and a piece of clay.
Since then I have never stopped ... I started creating heads, building bodies and dressing them: various characters, fished from fairy tales, books, films ...
The theater in Naples, as I said, was one of the main stimuli, especially that of the figure and the puppets and puppets.
I have had numerous artistic collaborations and today I am part of a theater company in Perugia, OCCHISULMONDO, as a mask maker and creator of puppets and marionettes. Furthermore, in recent years, I have had collaborations with the Teatro del Lavoro of Pinerolo, in the province of Turin, both on the educational and more purely artistic aspects.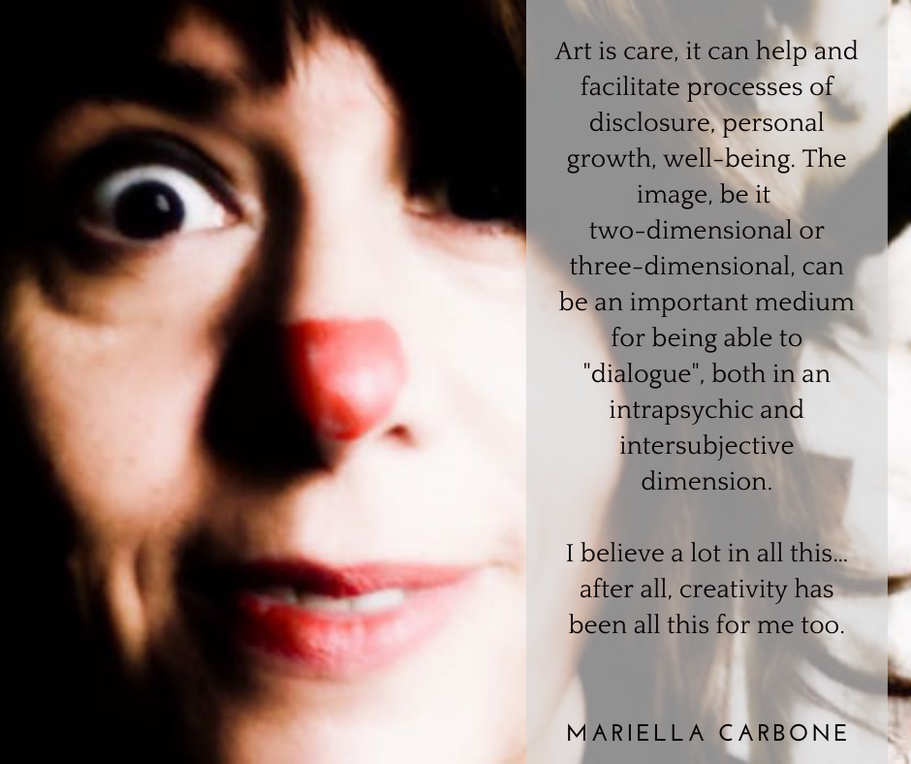 * I read in your bio that you deal with art therapy, how can art help heal?
 I approached art therapy in 2010, after two master classes that I conducted in Iran and Russia, as part of two important puppet theater festivals, in which I met young people from the art academy in Tehran and then in Tabriz and with school teachers of various levels in Sochi, Russia.
In both cases, I realized that in addition to the development of skills and techniques, the work on masks and the construction of characters facilitated the "opening" of other types of doors. The emotions of the participants and the self-narration through what they had created was powerful, dense, at times moving. I realized that I had to "contain" or stimulate all this, also because it gave me joy too.
 But I had to have tools to be able to do it best. And so I decided to embark on a path that began in Milan, with the Lyceum school of art therapy and then in Assisi, where I attended the art therapy school "The Citadel" for three years. An enriching and highly formative journey that continued in Rome, where I earned a 1st level master's degree at the European University of Rome as a social theater operator.
I made "my bones" with a project between art and puppetry in the women's section of the Perugia prison, the ARTicolAZIONI project that I conceived and conducted, it was supported by the Red Cross, lasted three years and resulted in a documentary that certifies the path of growth, comparison, experimentation, cohesion of a group of women detained through masks and puppets.
Art is care, it can help and facilitate processes of disclosure, personal growth, well-being. The image, be it two-dimensional or three-dimensional, can be an important medium for being able to "dialogue", both in an intrapsychic and intersubjective dimension.
 I really believe in all of this… after all, creativity has been all of this for me too.
* In "Lo cunto de li cunti" (The tale of tales) one of my favorite stories is "La vecchia scorticata" to which, in your book, some of the pages I love most are dedicated. To us who have not had the good fortune to see your "Grottesco incanto de li cunti" exhibition, can you tell us something that makes us feel the charm of those stories and let us savor your inspiration?
 The drawings of La Vecchia scorticata together with other works, figures and masks, are part of my larger work inspired by Lo Cunto de li Cunti of Giambattista Basile, which merged into an exhibition set up, in 2010, in the extraordinary seventeenth-century setting of Palazzo Trinci in Foligno and, in 2014, at Castel dell'Ovo in Naples.
 The intent that guided my work was to translate and reinterpret, in images and figures / puppets, the suggestions born from the passionate reading of Basile's text: horror and enchantment, scurrile and poetry, the eroticism and sentiment. The scenes, objects and illustrations have become a reinterpretation of the elements and themes, of the ratatouille, of the  married soup ("minestra maritata" one would say in Neapolitan) present in Basile's fables but also in today's Naples.
 * Is it possible to see this exhibit today?
Not at this time, I hope in the future to be able to re-propose it in other spaces and in other cities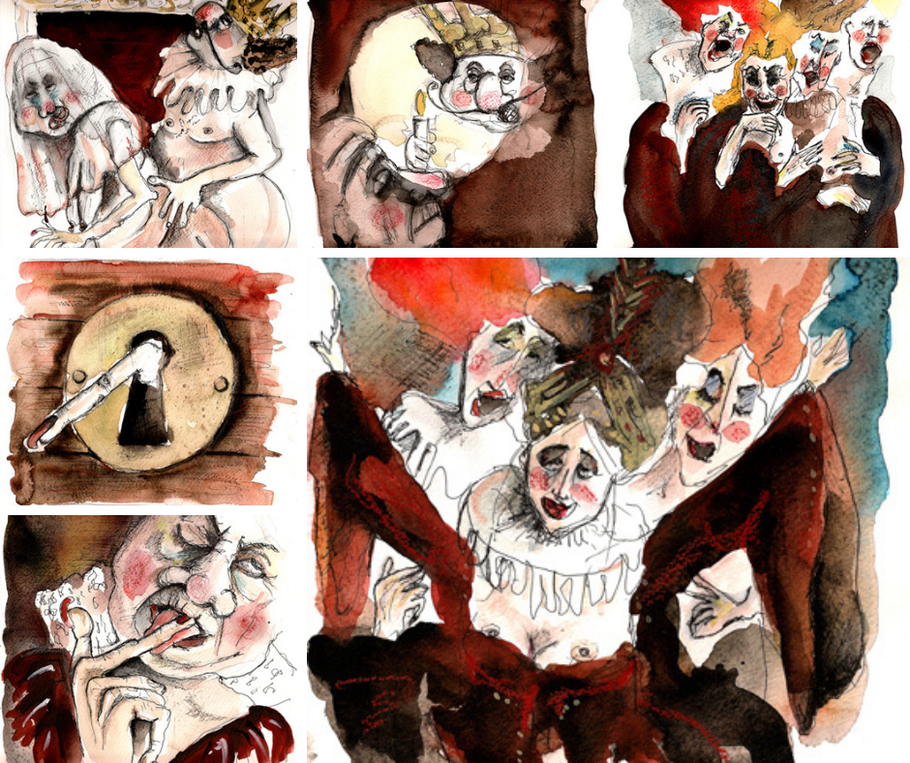 * Dove possiamo ammirare le tue opere?
In questo momento fisicamente, in parte, nel mio studio a Perugia, virtualmente sul mio sito (da aggiornare) pupazze.wordpress.com e sul mio profilo Instagram www.instagram.com/magacarbo e sul mio profilo FB…ma non sono brava sui social come te!! 
* Hai in vista qualche laboratorio workshop a cui possiamo aspirare di partecipare?
Tanti!!! Sto organizzandomi per il prossimo anno, sia workshop in presenza che online
* Progetti per il futuro?
Dare sempre più spazio all'arte, al disegno, al teatro e alla "cura" attraverso i linguaggi, i codici e gli strumenti di tali forme artistiche. Sto ampliando il mio laboratorio che è già di 50 mq con ulteriori spazi che potranno accogliere anche in sicurezza persone.
Sto progettando una mostra dei miei lavori teatrali a Perugia che spero si possa fare nel 2022. Voglio aprirmi a nuove collaborazioni anche in altre città che possano essere stimolanti ed arricchenti…!!
E soprattutto viaggiare realmente e con la fantasia e il mio immaginario
* Where can we admire your works?
At this moment physically, in part, in my studio in Perugia, virtually on my website (to be updated) pupazze.wordpress.com and on my Instagram profile www.instagram.com/magacarbo and on my FB profile ... but I'm not good at social like you !!
 * Do you have any workshops in sight that we can aspire to participate in?
Many!!! I am planning for next year, both face-to-face and online workshops
 * Any plans for the future?
Giving more and more space to art, drawing, theater and "curation" through the languages, codes and tools of these artistic forms. I am expanding my workshop which is already 50 square meters with additional spaces that can also accommodate in safety of people.
 I am planning an exhibition of my theatrical works in Perugia that I hope can be done in 2022. I want to open up to new collaborations also in other cities that can be stimulating and enriching… !!
And above all to travel really and with the imagination.
* A journey that has remained in your heart?
  Patagonia and Buenos Aires
 * Your favourite dish?
The desserts… unfortunately !! Neapolitan pastiera
 * A book you love very much?
  Many, but naturally Lo Cunto de li Cunti by Giambattista Basile in the translation by Roberto De Simone
 * Which color do you wear the most?
Black and red
Thanks Mariella, this chat was really interesting, I really hope to be able to come and visit your studio in Perugia. Thank you for your great openness, see you soon!