Today I have a guest here on the blog, Elisa. Elisa is an herbalist and much more, I met her because she asked me to make a felt character for her, Auntie Wolf. But I leave you to her words, you will be fascinated as if you had entered a fairy tale.
 Hi Elisa, can you introduce yourself to my friends and tell us something about yourself?
I am Elisa and I am an herbalist!
I am 26 years old and I grew up at the foot of Mont Blanc, in Courmayeur. For about a year, I moved to Aosta with my boyfriend, Andrea. We are two wild and, as soon as we can, we run away from our cottage in the city center to go to a special place: Hivaz, a cottage surrounded by meadows and a forest of chestnut, cherry, ash and downy oaks.
To get there, you have to walk a dirt road about a kilometer and a half long. In this place we have our bees, the vegetable garden and some medicinal plants, but more importantly ... it's just us and nature, nothing else!
I love using my hands: hoeing the earth, kneading bread and biscuits, creating, dyeing fabrics, sewing, writing stories, collecting herbs and flowers and mixing them to prepare infusions! I call myself a wild, creative and lonely 21st century witch!
How did your passion for plants and herbal medicine begin?
When I was a little girl, mom took me with her to the meadows and woods near home and taught me to recognize some herbs. Together we collected the hawthorn flowers to prepare calming herbal teas; wild spinach and nettle leaves to make soup; wild strawberries for the tart with custard; blueberries for jam; the flowers of the pasqualine and the forget-me-not to decorate the house and many other plants for as many uses.
Dad, on the other hand, in early or mid-June, took me and my brother to the Val Veny meadows to collect the spurred violets.
For us it was an adventure, we had a lot of fun running around the meadows in search of those small fragrant flowers and we competed with whoever collected the most. Once dried, the violets were mixed with other herbs to make herbal teas for coughs or were added to hot milk with honey and génépy to prepare "mountaineer aspirin", an ancient Aosta Valley remedy for fever, cold and cough.
My maternal grandmother, who lived in a small village in the Val Camonica, prepared the syrup of larch buds, the decoction of Icelandic lichen and juniper etc.
In short, I have always been surrounded by people with the habit and passion of using herbs. This fascinated me and I found it magical to collect a plant and use it as a remedy.
During my walks in the mountains, I learned to carry Mum's herbal book in my backpack and to consult it every time an unknown flower happened to me. I read the description and focused on the properties and uses, I tried to remember its scientific name.
This passion of mine led me to first attend a school of agriculture and the environment and then, finally, the degree course in herbal techniques. While attending university, I was contacted by the cultural association called "Center d'Études des Anciens Remèdes" which manages the Maison des Anciens Remèdes in Jovençan, a museum where information, testimonies, documents, scientific studies and legends are collected. use of herbs in the Aosta Valley.
I started to cooperate with them and still today I collaborate in carrying out activities, educational visits and workshops especially for schools, with the aim of passing on this ancient knowledge to the little ones.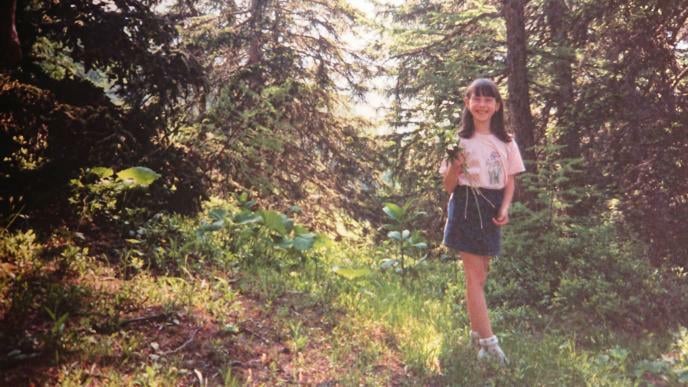 How do you use plants?
I love mixing herbs and making infusions! I prefer to collect them myself, dry them and keep them in jars. As a good herbalist I use plants mainly as a remedy: infusions, decoctions, compresses etc. I love experimenting, so I prepare syrups, liqueurs and flavored honeys. For a year I have approached the natural dyeing of fabrics and, during my free time, I experience the colors of the plants that I collect in the woods, spices and some vegetables, dyeing yarns and fabrics. Plants have so much to give us!
In spring I collect silene, wild spinach, nettles, hops and many other herbs to prepare soups, omelettes, risottos and savory pies; in the summer, wild blueberries and strawberries to prepare jams and tarts.
Let's say that herbs have always been part of me and my daily life.
Why did you start writing fairy tales and how did the character of Aunt Lupa born?
Near my parents' house there is a large uphill lawn that separates the inhabited area from the woods.
From a very young age I loved to go there with my brothers to play. I also went there alone, to simply sit on the grass, leaning against a tree, close my eyes and listen ... I let myself be inspired and write poems about nature.
At school I loved playing themes where fantasy had to be used. Since then, apart from a few poems every now and then, I haven't written anymore, until an afternoon about 6 years ago.
I was babysitting my granddaughter Marie-Claire when, at a certain point, she looks at me and asks me: "Aunt, tell me a story ... but not that of Uncle Wolf that scares me!" (For the uninitiated "Uncle Wolf" is a Romagna fairy tale taken from the collection "Italian Tales" by Italo Calvino.)
My brother, Marie-Claire's father, had read it to her one day and the girl was afraid. At the first moment, I was a bit taken aback, I didn't know which way to start, we usually spent our time together reading books, while that was the first time she asked me to invent a story. Then I got an idea! Why do not turn the figure of the bad Uncle Wolf into a better Aunt She-Wolf? So I began to tell and build, together with my granddaughter, this fantasy world, where Aunt She-Wolf, a herbalist she-wolf, lives in the woods in a small house always surrounded by a rainbow, not far away is the little house where Marina, a girl of about 5 years old, lives together with her family: her mother, her dad, her little brother Anselmino and Romeo, a funny long-haired cat who accompanies the child in all her adventures.
They recently moved to the woods. When they lived in the city, dad, as a job, was a veterinarian and looked after pets. Now, he finds himself treating the wild animals he finds injured in the woods and on the mountain, but very often he has no idea how to do it, so he always sends Marina to ask Aunt She-Wolf for advice, who knows the medicinal herbs and uses them to prepare remedies . The she-wolf, each time, entrusts the child with the mission of finding the plant needed to prepare the remedy for the sick animal. So, together with the cat Romeo, Marina is always facing new adventures, in unknown places, to discover the herbs.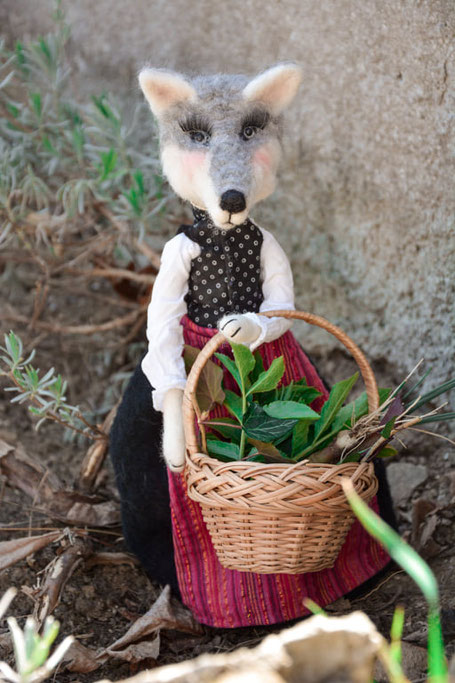 How will you use the doll I made for you?
For about two years Marie-Claire and I have been inventing Aunt She-Wolf's stories. One day, on her birthday, I decided to give her a collection of some of our stories. On the advice of my parents, I decided to show the "book" directed by the Maison des Anciens. So, from that summer, I organize meetings for the children in which I, dressed as Aunt She-Wolf, tell my stories and, together with the children, we prepare a remedy: pink honey, thyme salt, hot chocolate, hypericum oil etc. Children really like these stories and parents often ask me if there is a printed book to buy, I'm working on it!
Last year, browsing on Facebook, I came across the page of Pupillae and I was fascinated by the beautiful wool dolls. Looking at the photos of Artemisia, the herbalist doll with her basket of herbs, I immediately imagined a doll of Aunt She-Wolf. So I wrote to Gioconda that, super nice, she told me that she would be very happy to make it for me! I trusted her creative instinct and I did well. What a thrill to follow the various steps of creating this doll on Instagram, but even more on average finally in your hands! A miniature Aunt She-Wolf, even Marie-Claire when saw her couldn't believe it.
I will definitely use her during my activities with children. Now I am experimenting and I would like to create small "stop motion" videos perhaps alternated with drawings, moments in which I tell stories, images shot in the woods, etc. to create a sort of movie for each story of Aunt She-Wolf to offer to children. I'm still at the beginning of this project, but slowly I want to carry it on, like the one in the book!
Tell us a funny or curious anecdote about your work with children.
 In all Aunt She-Wolf's meetings I wear an "antique" dress and wear a headband with two wolf ears on my head. At my meetings, older children and other small children participate. The funny thing is to see how some of them immediately believe the character, they see him as a real figure out of a story, and in fact it is so, because to create Aunt She-Wolf I referred to myself. They often say to me, "But you're not a real wolf - or - those ears are fake!" Once, one of these children had made a joke about my ears and a girl of the same group of about 4 years replied to him in a tone saying: "Of course her ears are different, they are sensitive and they also hear ants! " The nice thing is that the little girl was so determined and convinced of what she said that she silenced the other child.
This is what I like about these activities: stimulating children's imagination; teaching them curiosities and ways to use plants, seeing that while I tell my stories they are there, enchanted, watching with the eyes of the imagination.
So did you like the story of Elisa and her Aunt She-Wolf? I like it a lot ... When she will publish the book I will tell you, I promise!
To stay updated and listen to other stories subscribe to my newsletter!