Conan Doyle tells about the birth of Sherlock Holmes that he was inspired by one of his mathematics teachers who left everyone speechless for his deductive method.
The first tale in which Sherlock Holmes appears, A Study in Scarlet, was written by Conan Doyle at the age of 27.
This story, which was published in a newspaper, was noticed by an American publisher who asked to write a new story to him and to Oscar Wilde. Oscar Wilde wrote his masterpiece 'The Portrait of Dorian Gray', Conan Doyle 'The sign of the four'.
Conan Doyle with Sherlock Holmes invented modern crime novel in three acts with this scheme:
murder ---> investigation -----> solution
The narrator, Doctor Watson is another strong point of Sherlock Holmes' tales because it is a mediation between Sherlock and the reader and Watson has a vision very similar to the reader who recognizes himself in him.
There is a strong contrast between the chaos of Jack The Ripper's London outside and the inside, the Baker Street apartment, the solitude and misanthropy of Sherlock.
There is a will to believe in the omnipotence of science and reason over darkness. Which is revealed in Holmes's phrase "Once the impossible has been eliminated, what remains, however improbable, must be the truth"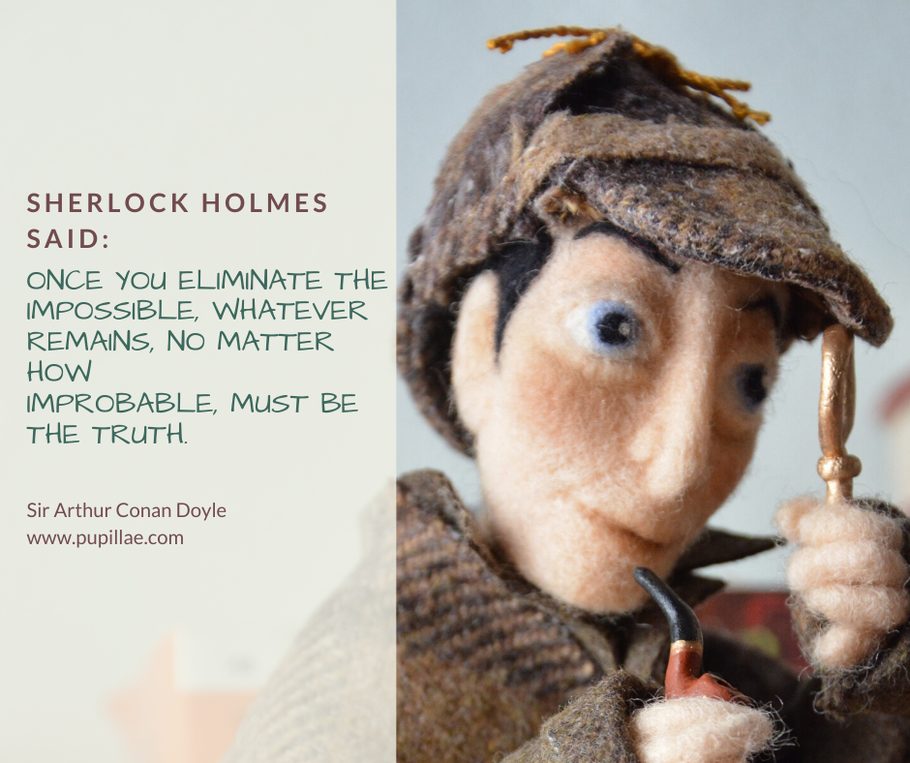 The deductive method of investigation seems obvious to us but it was invented by Conan Doyle with Sherlock, then expanded by Edmond Locard who was the first to create a forensic laboratory in Lyon explicitly declaring that he was inspired by Sherlock Holmes. This method is still the basis of modern investigation.
Sherlock is not a classic hero, he is almost unpleasant, gloomy and unsocial, he is an unhappy and uninterested person in everything that doesn't concern investigation, he uses drugs out of boredom.
Among the many characters inspired by Sherlock Holmes there is also the Doctor House. He too is an anti-social and misanthropic anti-hero who do drugs and lives at 221 / B just like Sherlock.
The hunter's hat is an element added by Conan Doyle's brother who illustrated Sherlock Holmes in its first editorial release, while the curved pipe was used for the first time by the actor who played Sherlock and both elements immediately entered the collective imagination.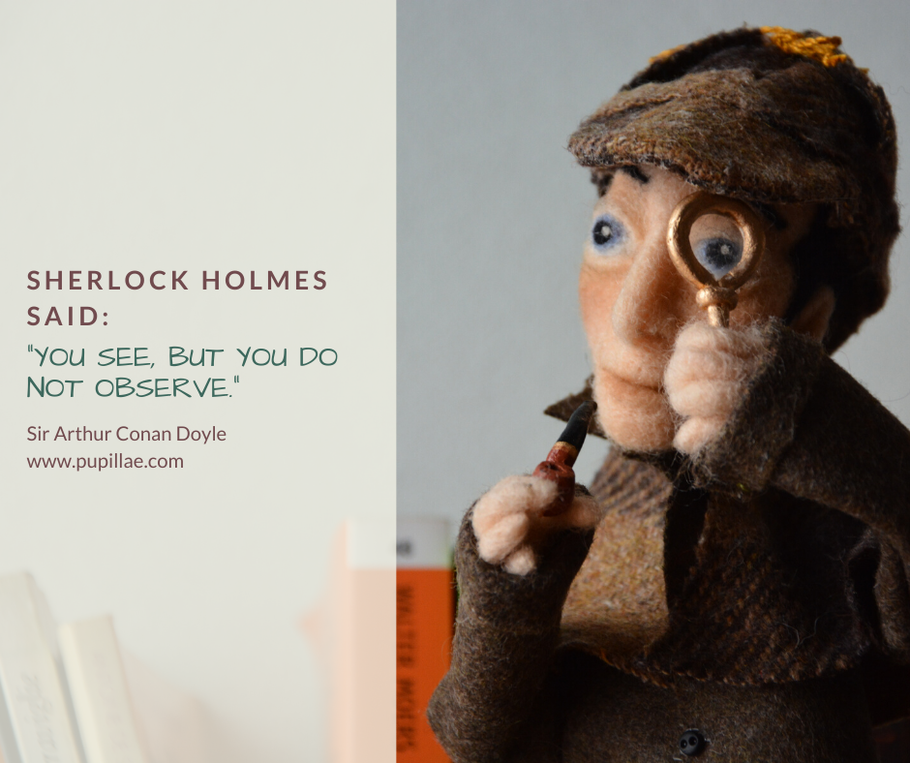 Conan Doyle was a fan of Sir Walter Scott, the author of Ivanhoe and the historical novel was, for him, the maximum form of literature to which he aspired all his life.
Conan Doyle wants to abandon Sherlock Holmes and tries many times but he is always convinced to return to his character above all for money.
In one of his returns to Sherlock Holmes he writes 

 

The Hounds of Baskerville that becomes the most successful novel in which we see a changed, ambiguous and endowed Sherlock with a dark part.
Conan Doyle at one point also deals with investigation, like Sherlock, even if he seems to be more similar to Watson, and manages to exonerate an Indian boy accused of animal abuse mostly for ethnic reasons.
Finally he leaves Sherlock Holmes and writes a completely different novel "The Lost World" an adventure novel set on a plateau populated by prehistoric animals in which the protagonist is Professor Challenger and the narrator the journalist Malone. This novel will open a series of adventure novels and will also influence movies.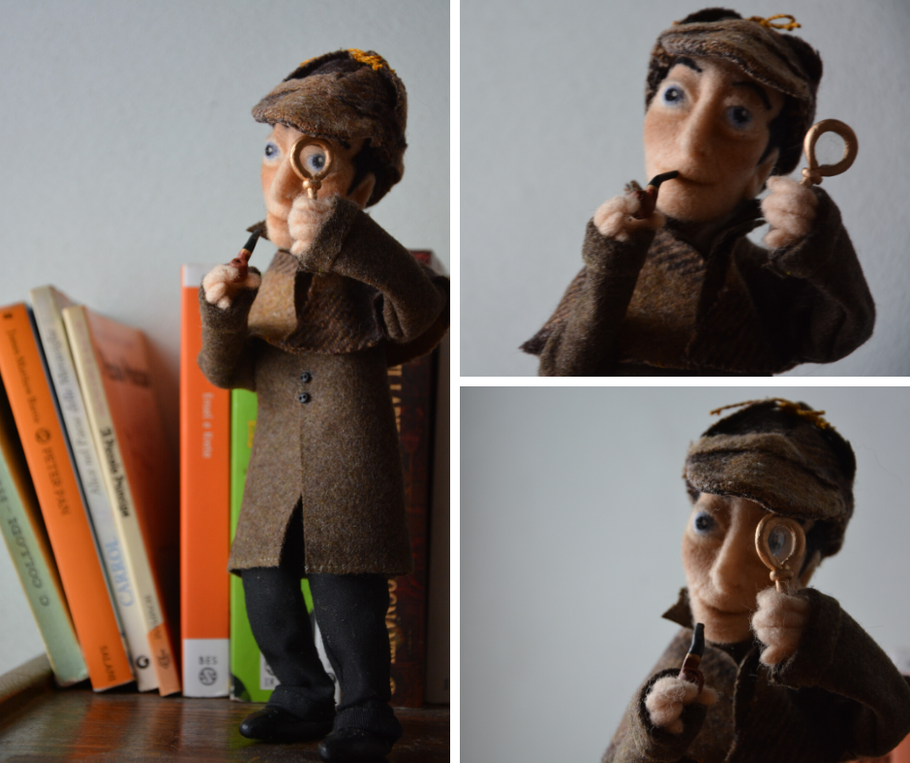 Conan Doyle continues to write about Sherlock, however, sends him to the countryside to do beekeeping and returns him every now and then to deal with some cases.
World War I breaks out and Sherlock unmasks a German spy.
During the First World War Conan Doyle loses a son and comes out marked. As a rationalist atheist he begins to deal with occultism.
Well known is the episode of the Cottingley Fairies. Two little girls made photomontages with fairy-like figurines and passed them off as real, Conan Doyle believed this story.
We should not be surprised at this new attitude of Conan Doyle, as a man of science he was convinced that paranormal phenomena existed and that it was possible to demonstrate them, moreover it was not such a strange practice in that historical period even Marie Curie participated in spirit sessions.
Arthur Conan Doyle wrote 60 short stories by Sherlock Holmes but Sherlock survived its author and continues to live today in the many apocryphal novels that are a truly an infinite number.