Halloween for me is above all atmosphere. I don't do anything in particular but I love immersing myself in my beloved books by choosing themed readings. What do you think of a Halloween in front of the fireplace with a lamp with warm light, candles scattered here and there, some roast and a glass of good wine and an equally good book to spark the imagination?
I have compiled a short list of books that I have read and that seem to me to be perfect for the occasion, I chose stories that are suitable for Halloween but not exaggeratedly Horror, stories where above all the atmosphere is the protagonist.
I would really like if  you add the readings you love suitable for the occasion in the comments, so we will create a place where those who enter can be inspired and choose a quality reading.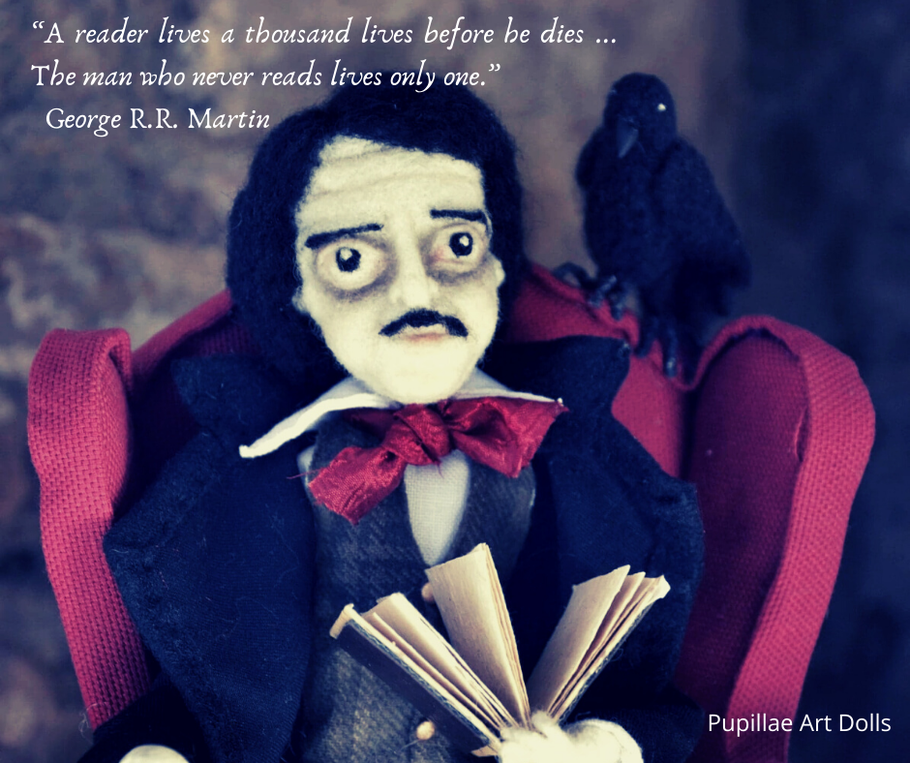 ---
Novels
Dracula, Bram Stoker (1897)
A classic in letter form not to be missed. 

Frankestein, Mary Shelley (1818)
A novel of great Gothic atmosphere, decadent, in epistolary form.

And then there where none, Agatha Christie (1939)
Many guests in a house on an island where only the servants are waiting for them. Thus begins one of the best cime novel ever written and undoubtedly the most sold in the world.

Diary, Chuck Palahniuk (2003)
a dark story with the minimalist, scientific and dry style of the American writer.

Affinity, Sarah Waters (1999)
Victorian atmospheres and spiritism from a teacher of suspense and beautiful writing, Sarah Waters.
---
Short novels
The legend of Sleepy Hollow, Washington Irving (1820)
hence the famous Tim Burton's movie.

Carmilla, Joseph Sheridan Le Fanu (1872)
the charming vampire.

The Vampire,  John William Polidori (1819)
born from the bet made with Lord Byron, this same bet gave birth to Frankestein the masterpiece of Mary Shelley.
I made a doll inspired by these stories, you can see it HERE and read some incipit.
---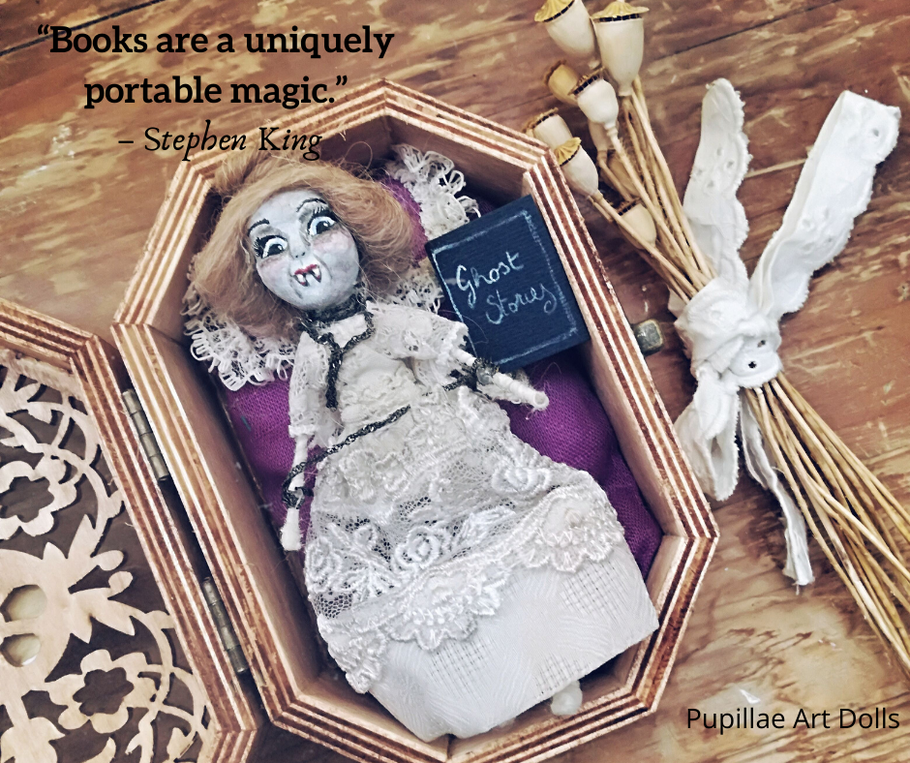 ---
For young and old kids
Coraline, Neil Gaiman (2002)
one of my favorite books, the other mother is an unforgettable character.


The Graveyard book, Neil Gaiman (2008)
always from the great Neil Gaiman a dark and sweet story.

Miss Peregrine's home for peculiar children, Ransom Riggs (2011)
besides the strange and scary story the photos inside are really beautiful.
One of the first dolls I made, so don't be scared if it's a bit raw, it was the one inspired by Coraline that you can see HERE
---
Short Stories
 E.A. Poe's tales (1845)
Among the best stories ever written.
The boutique of the mistery, Dino Buzzati (1968)
a true master of the story perhaps little known abroad, magnificent.
Lovecraft's tales (1917-1935)
a controversial and innovative author, especially some titles really deserve to be read for Halloween.
I made a lot of Edgar Allan dolls, go HERE, this is one of the first I've done.
---
Fairy tales
Bluebeard, Charles Perrault (1697)
The Pied Piper of Hamelin, a German legend transcribed by the Brothers Grimm in 1916
Hansel e Gretel a German legend transcribed by the Brothers Grimm in 1812
The old skinned woman of Gaimbattista Basile (1634, day I, fairy tale X, The tale of the tales)
Lisabetta da Messina, Giovanni Boccaccio (1350-1353, day IV, novel 5, the Decameron)
Waiting for your reading lists!
---