I swear that my heart is crying to talk about it because I would love to visit it but, above all, to participate as a dollmaker is one of my dreams. I will try to wipe away my tears and talk about this incredible and important international exhibition of art dolls, marionettes and teddy bears in Prague that takes place every year. I think that this year has reached its sixth edition, quickly becoming the reference event in Europe for the virtuosos of doll art and for lovers of these small works of art, all this happens in the heart of one of the most beautiful, fascinating and mysterious cities of Europe and of the world. This is Doll Prague (sigh!)
The show always proposes a contest, this year the topic is "Life is but a chance, one day you're up, the other day you're down" (oh God, I'd love to participate!), The president of the competition is the great Marlaine Verhelst, if you don't already know her, HERE you can admire her dreamlike creatures.
The exhibition will take place from 8 to 10 November and will see the presence of many artists from all over the world including the United States.
From Italy we will have the presence of the talented Elisabetta Visentini, Alessandra Nicolin and Nataliya Ansaldi Bezrodna.
In the days of the exhibition it will also be possible to follow workshops held by important dollmakers (tear drops)
You can visit the website HERE (in English) and the Facebook page HERE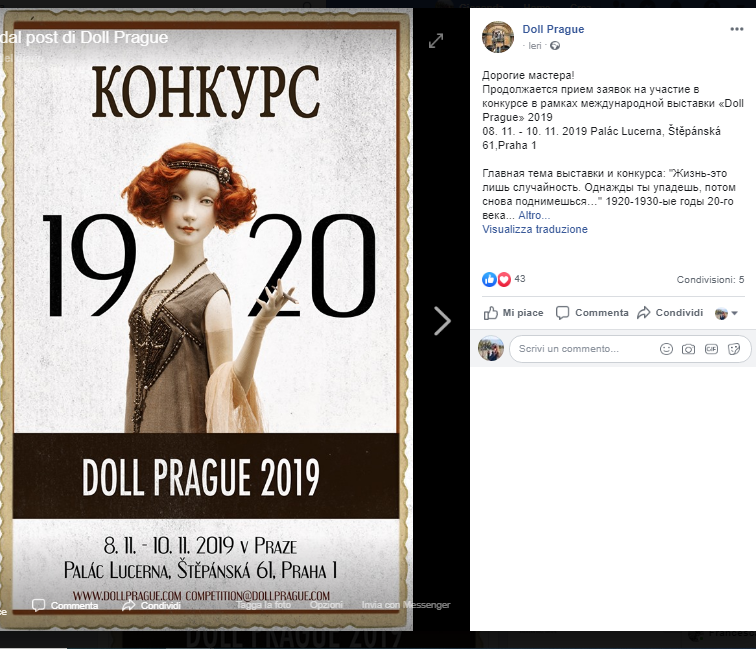 I leave you for today and I go to my little studio to work on my dolls and to dream of Prague and of being part of that beautiful team and maybe one day I will succeed!