Virginia Wolf said about the books "Alice in Wonderland" and "Alice beyond the mirror": 'Alice's two books are not books for children but are the only books in which we all become children'.
If you love the surreal and dreamlike vein of Alice then you can't miss 'Alice' the movie by the Czechoslovakian animation director Jan Švankmajer, finally available on Amazon Prime. It will seem to you to walk in a dream, not in the sweetened sense of the term but in a real dream because it is strange, seemingly inexplicable as many dreams are. Anthony Lane of the New Yorker wrote about this director 'the world is divided into two categories of different sizes. Those who have never heard of Jan Švankmajer and those who have seen his works and know that they meet face to face with a genius' And that feeling comes from the first moment. The surreal is the protagonist of this movie and Alice's story lends itself very well to this purpose. 
The soundtrack is made up of noises, sounds, verses and squeaks because the director wants to remove the fairy-tale dimension to get closer to the dreamlike one.  It is made with the imperfect stop motion technique to look like the movement mechanics of ancient toys. A curiosity: all the objects were collected by the director and by his wife, being collectors of antique objects. At this point I hope to have stimulated your curiosity, these director's movies are really food for creativity. On you tube you can also find a short film entitled Food, very interesting too, in the name of surrealism.
In my September 12th newsletter, you will find other curiosities about the character of Alice and you can download my paper doll, also inspired by Jan Švankmajer's film, complete with many dresses.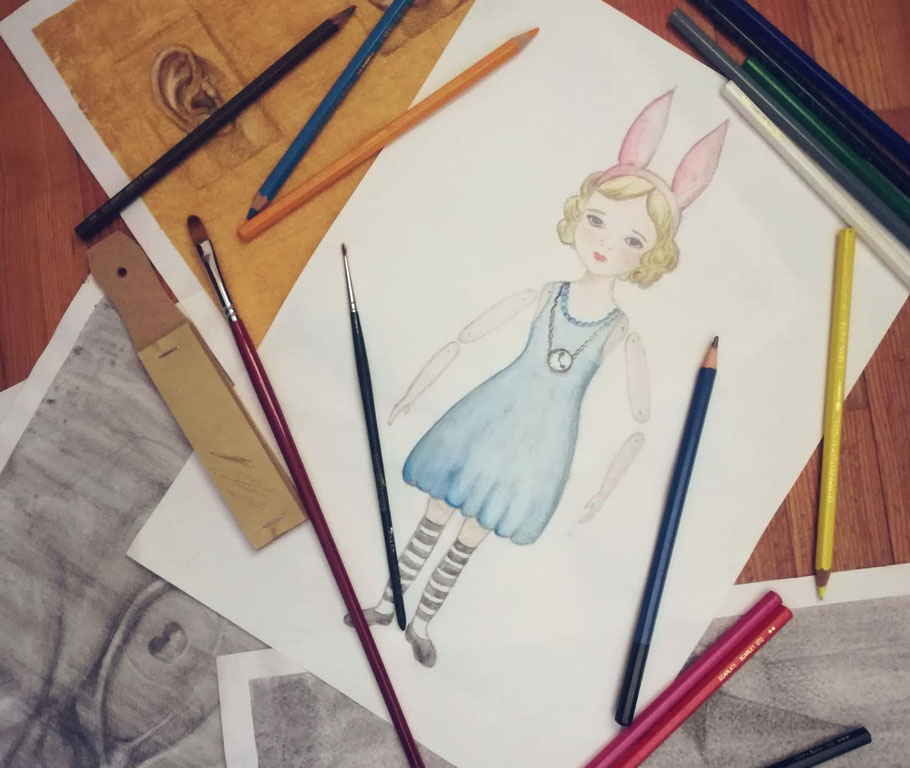 Here in a work in progress version.
Click on the button below to register.