I recently discovered that until the 1700s there was no differentiation between adult and child clothes. Can you imagine? Little girls dressed like dames, forced into very rigid bodices and little boys locked up in real armors that prevented them from playing, running, even laughing out loud. It was believed, at the time, that children should get used to the role they would have in adult life as soon as possible. Since the end of the 18th century, thanks to Rousseau's philosophy that also embraces pedagogy, a new way of seeing childhood has spread and finally it was given value to the freedom of movements and to the children play, bringing infant clothing to widen and to lose its rigidity .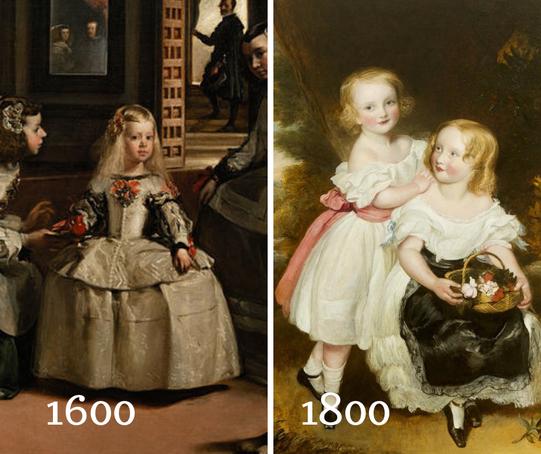 1600: Velazques, Las Meninas (1656) Rigid dress with bodice, skirt with crinolines, posture set.

1800: Frederick Yeates Hurlestone, 

Portrait of two Victorian children. Soft fabrics, loose and comfortable clothes.

 
The period in which Anne of Green Gables is set by Lucy Maud Montgomery is the beginning of 1900 in Canada. Anna is an orphan girl who had been adopted by Marilla and Matthew, brother and sister without children who live in the country leading a modest life, without pomp or frills. Marilla is a very concrete and austere woman and takes care of Anna's education as well as sewing her clothes. Having said that, we understand why Anna's clothes will always be simple, almost shabby. Even if Anna wants it, Marilla won't even let her have a dress with ruffles, she is afraid that Anna will get her head set and she wants her to immediately understand the standard of living she should have. So Anna will almost always have a pretty dark winter dress and a lighter cotton summer dress. Inevitable is the pinafore to protect the clothes, much used in that period especially in modest environments. I made a pinafore for my Anna doll with a vintage hand-embroidered napkin that I dyed with tea. I have two versions of the dress, one in dark velvet and one in cotton, more summery, in the patterns and soft colors of the period.
The straw hat that Anna decorated with fresh flowers deserves a separate discussion. This is another characteristic accessory of that period. Actually, at the end of the 1800s, the straw hat was already worn but in 1906 something happened that led this piece of clothing to be really in vogue. President Roosevelt, visiting the Panama Canal, he was photographed with a straw hat and from  that moment it was declined in many different versions, for all ages.
We close this little window on the history of costume for today, in the meantime you will have understood that Anna is a character that stimulates me and that I consider as a sister in many things. Below, by clicking, you will find my creations inspired by her and by Lucy Maud Montgomery's book.
The brooch is available in the shop, the small and the big doll are made to order. I remind you that by Christmas I will only take 5 commissions, so if you are thinking of a Pupillae doll, I advise you to reserve your doll as soon as possible.